Dangerous Liaisions with the Orchestra of the Age of Enlightenment at the Queen Elizabeth Hall. Joined by Les Corps Éloquents (Hubert Hazebrouq, choreographer, Irène Feste and Romain Arreghini, the OAE surpoassed even their own high standards, demonstating the link between music and dance in the French baroque. More than 40 extracts, primarily from Lully and Rameau, were chosen to form a highly original compilation, unfolding in thematic sequence : Idyllic Delight, Seduction, a Ballet des Fleurs, Vexation, Loss and Despair, Frolics and Mischief, with Reconciliation, the happy ending. It's quite an achievement to put together more than 40 disparate extracts so they flow together naturally, yet with much variety. Like
Le Concert Royal de la Nuit,
(
more here
) this cohered well, an excellent summary of style and content. Much admiration is due to the OAE's Principal Flute Lisa Beznosiuk, who curated this with the support of an OAE team and Hubert Hazebroucq, who choreographed the dancing in period style. This was also an exercise in French declamatory song style, with period (not modern) pronunciation, so credit is due, too, to soloists Anna Dennis and Nick Pritchard. Conducted by John Butt, the OAE were in vivacious form : a delightful two and a half hours which passed all too quickly.
Like a prologue to a drama, the OAE began with Lully's
Overture from Le Triomphe de L'Amour
, followed by six miniatures, four from Lully's
Thésée
(1675) "Aimons tout nous y convie, on aime ici sans danger". Notice the archaic language, which did mater, since it complemented the stylized, idealized sentiments in the text, and in this context reminded us that the world of the baroque needs to be understood on its own terms. Thus the dancing, very different to what we take for granted today. Like the art of fencing, dance prepared young noblemen with skills much needed in Court cicrles : physical fitness, mental discipline, alertness to strategy and form and an awareness of elegant presentation. Thus the stances - hands and feet held at angles, foot positions which would have developed formidable muscles, enabling the dancer to control his position until he was ready to execute swift, decisive changes. The formal patterns of dance also reflected concepts of social and cosmic order, the individual functioning as part of an emsemble.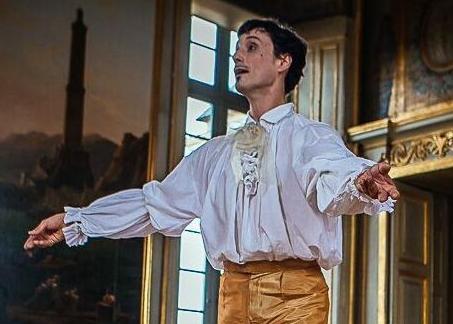 Hazebroucq's choreography is based on extensive archival research but also on the relationship between dance and music, so fundamental to the baroque aesthetic. Lully didn't conduct with a staff for nothing : he was (literally) beating time, creating a percussive foundation for music that was made to be moved to. Hence the vigorous rhythms and exuberance, at times reminiscent of military marches and fanfares. Period instruments pack an earthy punch, horns and percusssion evoking instruments from even more archaic times, complementing the baroque fascination with classical antiquity. The stringed instruments, plucked or bowed, added variety and character, sometimes providing continuo, or embarking on flights of inventiveness. Seeing the dancers move in close relation to the music enhanced understanding of the musical logic.
Thoughtfully, this Liaisons Dangereuses (like the novel that is told in letters, not narrative), interleaved an extract from Lully's
Les Noces de Village
(1663),between the pieces from Lully's
Thésée.
Philinte and Climene are idealized shepherd and shepherdess, more personable than the more stylised, abstract evocations of love in
Thésée
.
This also served to show that court dance, even when inspired by pastoral fantasy, was not folk dance but far more sophisticated. The second section, "Seduction", combined extracts from André Campra's
L'Europe Galante
(1697) and Lully's
Le Bourgeois Genthilhomme
(1670),, the vaguely "Spanish" allusions adding exotic spice, to the dancing as much as to the music. In the Interlude, a "Ballet des Fleurs" , the dancers enacted an allegory in which three figures interact as lovers and rivals, eventually finding reconciliation. This is an allegory in music, too, combining Gavottes and Airs sourced from Rameau's
Les Indes Galantes
and Lully's
Atys
(1676), allowing the dancers ample room for elegant, intricate pattterns of movement. The section "Vexation" was based on Lully's
Armide
(1686), where the sorceress Armide tries to seduce Renaud. Anna Dennis was particularly impressive in this splendid role with Nick Pritchard her foil, dancers in black, the orchestra conjuring up a storm..
The section "Loss and Despair" began with the Prelude from Charpentier's
Orphée descendant aux enfers
(1684) setting the scene. An extract from Lully's
Ballet royal de la Naissance de Venus
(1665) prepared the way for Orpheus "Tu ne la pendras point, hélas, pour me le rendre" and Proserpine's "Courage Orphée, étale ici les plus grands charmes", also from Charpentier's
La descent d'Orphee aux Enfers
depict the Underworld. But love itself does not die. Venus (Anna Dennis) sang "Amiable Vainqueur" from Campra's
Hésione
(1700), neatly connecting the Orpheus legend with a tragédie en musique wth characters from other parts of classicl mythology. "Love that is strong enough can "Désarmer le Dieu de la Guerre: le Dieu de la Tonnere" evoked by the wind machines, crashes of percussion and baleful brass in the orchestra. After the tumult, fantasy and fun. From Rameau's
Platée
(1745) a satire, and a parody from Jean-Joseph Mouret's
Les Amours de Ragonde
(1714) . In the former, the gods squabble, causing invertebrates and mortals to fall in unrequited love. In the latter, couples end up mismatched. Colin, who ends up wed to his would be mother in law sings mock peasant dialect "Je ne songeons qu'uà bien aimer, je rougirions d'être volage". Warped humour, the opposite of idealized courtly love, but an opportunity to see the dancers imitate folksy jigs and "exotic" dances. But all is resolved in the final tableau, Reconciliation. Eglé and Mercury sort out their differences in a dialogue from Rameau's
Les Fêtes d'Hébé
(1739) and Calatée, Mercure, Zoroaster and Amelite sort out theirs in Rameau's
Zoroastre
(1739).
Please also see
Rameau
Zaïs
HERE.
(Anna Dennis, Orchestra of the Age of Enlightenment
Rameau
Pygmalion
and
Anacreon
danced HERE (OAE, danced by Les Paisirs des Nations),
Rousseau
Le Devin de Village
HERE
(Hubert Hazebrouque, choreographer)
and much else