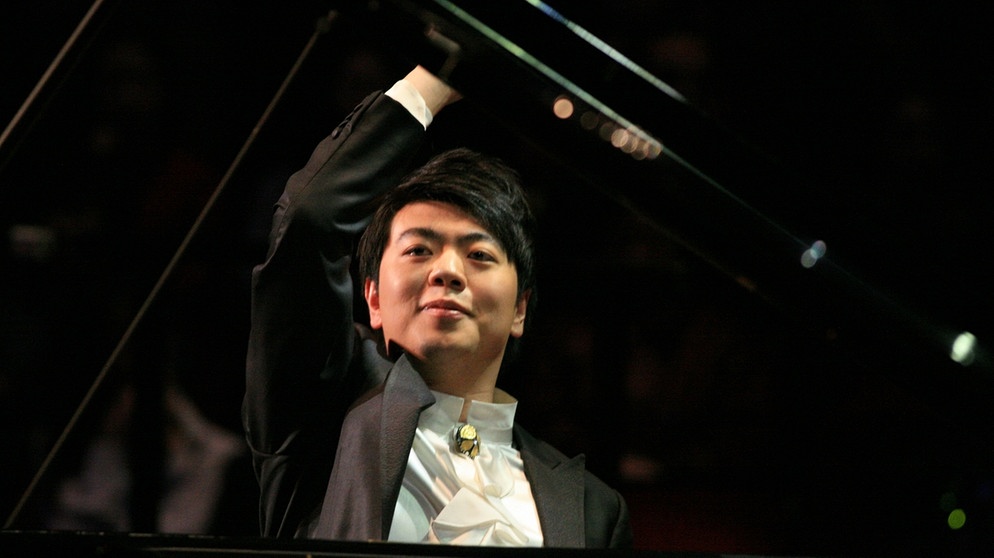 New Years Eve, enjoying the Silversterkonzert from Munich, with Mariss Jansons and Lang Lang and the Symphonieorchester des Bayerischen Rundfunks. I should've been listening to Daniel Barenboim's all-Ravel concert with the Berliner Philharmoniker , like my pals did, but it's New Year's Eve ! Not the time to be safe and sober. What is wrong about having fun ? Some of us put enough into music year-round, that we can afford to party ! Like most New Year concerts, the programme was wide ranging and light hearted, a buffet with popular treats asnd more exotic fare.
The kick-off started, appropriately, with Leonard Bernstein
Candide
overture, but Jansons and the BRSO showed their true mettle in Debussy's
Clair de Lune
, in the arrangement by Leopold Stokowski. Big, full bodied yet classy and stylish. Aha, a piano piece for large orchestra on a programme with a megastar pianist ! Witty good humour. Then a bit of Elgar, gentler, more personal Elgar, closer to the composer's soul than public blockbusters. Elgar's
Wand of Youth Suite no 2
is marked op. 1b though it was completed for publication long after
Enigma
,
Gerontius
and
Pomp and Circunstance
. The suites are compilations of some of Elgar's earliest works, some written to entertain children, but anyone, including adults can respond to the magic that is "the wand of youth". Here we heard "The Wild Bears", a jolly piece which dances with vivacious freedom. A joyous performance ! Sibelius, too, in the form of Kuolema from
Valse Triste op 44,

and Antonín Dvořák

Slavonic Dance

op 72/15.
Xian Xing Hai, (middle) in Paris with Nie Er and other compsoers
Lang Lang joined Jansons and the orchestra for the andante to Mozart Concerto for Piano and Orchestra No. 21 KV 467. The Herkulessaal in Munich is a tiny hall and Lang Lang usually plays very big halls indeed. It might be fashionable in some circles to sneer at him because he's successful, but he learned his music the hard way, working his way up. So here we heard the "real" Lang Lang to some extent, playing for pleasure, adapting for the small hall and the more intimate vibe. Without a pause, Jansons segued into Xian Xing Hai's Yellow River Concerto, the section "Ode to the Yellow River". In the west, people just don't understand the role of Western classical music in China. Interest was established fairly early on in China, enough so that it could support conservatories in Shangahi and Beijing from the early years of the 20th century. Even now, it's normal for middle class kids to play piano and know the basics of classical music, both western and Chinese. Xian Xing Hai (
冼星海, 905 -1945) was a virtuoso pianist but also studied composition and Chinese classsical music. Like so many Chinese intellectuals and modernizers he gravitated to Paris when it was the place to be in creative terms. Japan invaded China in 1931, occupying much of North China. By the time Xian returned to Shanghai, the country was in turmoil. Xian wrote the soundtrack for
Ma-Xu Weibang's film A Song at Midnight (
夜半歌聲) which is marketed as "The first Chinese horror movie" but much more sophisticated than a horror movie, with pointed references to the social and political situation and also to western classical music, to Beethoven and to Freedom.

Please
read more about it HERE
.

When civil war broke out Xian headed to Yenan, following the Communists. There he wrote the original
Yellow River Cantata, (黄河大合唱) for orchestra, chorus and soloists. Please read more about it here - it is a very good piece "more" than just music, it's a kind of expression of the soul of Chinese history, symbolized by the Huangho River, the cradle of Chinese civilization. The Yellow River Concerto suite was created decades after Xian's death. It's not nearly as good as the full cantata, but it is a vehicle for piano and orchestra, which is why Lang Lang played it here. It's new to Jansons and the BRSO, so they didn't do it justice.
More mainstream was the Chopin
Grande valse brillante
op. 18, closer to what Jansons, the orchestra and Lang Lang usually do. It's not fair to sneer at Lang Lang because he's so famous. Pianists (and violinists) have always been "pop stars". Think Chopin and Liszt or Paganini. Or Bernstein and Gergiev. Lang Lang has inspired millions of ordinary Chinese to take up western classical music : imagine the same happening in other countries where people seem to take pride in despising "elitist" art forms. Jansons has recorded Yūzō Toyama
(b 1931)
Yugen,
a suite for ballet, and here we heard the Men's Dance .
Its use of percussion provides a strong foundation for the keening string legato and flashes of brass : you can almost visualize these ideas translated for dance.
Back to more standard New Year's Eve party fare with Pietro Mascagni
Cavalleria rusticana. Intermezzo,
Johannes Brahms, Hungarian Dance No 5 and the Prelude to
La Revoltosa
by
Ruperto Chapi (1851-1909) a bit of "Spanish" colour to continue the "international" theme. To conclude, the Finale to
György Ligeti's Romanian Concerto, sneaking in a dose of modern for audiences who assume they might be averse to the avant garde.