Gillet på Solhaug. Scenbild ur Kungl. Operans uppsättning från 1908. (Musikverket)
The Feast at Solhaug : Henrik Ibsen's play Gildet paa Solhaug (1856) inspired Wilhelm Stenhammar's opera Gillet på Solhaug. The world premiere recording is now available via Sterling CD, in a 3 disc set which includes full libretto and background history. Well worth shelling out for, since Gillet på Solhaug is good listening and the new critical edition, by Anders Wiklund, should establish a reputation for early Swedish opera. Wilhelm Stenhammar (1871-1927), like most musicians of the time, studied in Berlin and Florence, but worked primarily in Sweden. As a composer, he is extremely well known for his songs, chamber music and piano works. Gildet på Solhaug, completed in 1893, was his first formal opera. It premiered at the Hoftheater Stuttgart in 1899 and at Stockholm Opera in 1902.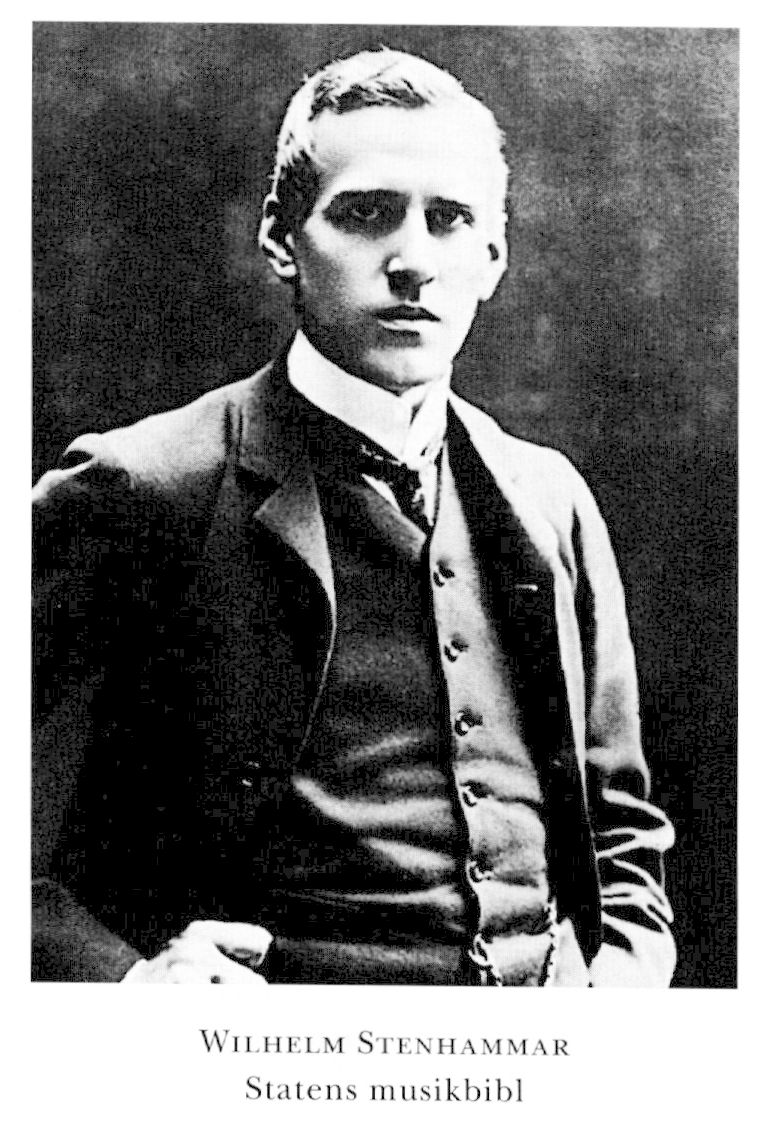 Gillet på Solhaug begins with a brief introduction not a formal overture, and moves almost immediately to the core of the drama. At a drunken party, Knut Gaesling, a notorious thug, spies Signe, a delicate maiden, and swears he will marry her. His friend, Erik fra Haegge, agrees, so as far as Knut is concerned the deal,is done whatever Signe might think. Marriage as horse trading. Knut hasn't reckoned on Margit, Signe's strong-willed older sister. In a long and moving soliloquy "Vel var det, han gik", she describes herself: The bride of Solhaug, wealthy but so desperately unhappy she longs for death. The part is written for a mezzo with good lower resonance, suggesting Margit's inner strength. As Knut sneers, Margit should have been a priest. Signe is written for high soprano, suggesting innocence, the music around her skipping innocently. Seven years before, Margit and Gudmund Alfsøn had pledged their love. Now he's an outlaw and she's married another man. Margit tries to hide her feelings but the music says what she can't, but with a clean, pure chastity that fits her character. Gudmund's a harpist: Stenhammar lets his music sing.



In the second act, the feast at Solhaug is in full swing, drunken guests carousing to the sounds of Hardanger fiddle, scored for modern orchestra. Stenhammar's background in writing for voice, choir and orchestra comes to the fore, providing an ironic backdrop to the action unfolding. Knut's machinations are brutal,Gudmund's declaration of love for Signe is thrown into chill perspective. But Margit dominates above all. Her lines are grave and dignified. The purity of Margit's line expresses something deep in her soul. What a pity the English translations are risible. "How should I quiver my magic lay"("Hvor skulde jeg kvade" in Danish, "Wie woll't ich singen" in German) and "I'd fain fling it down to the neckan hard by" ("Skaenke den til nøkken dernede"). Margit's mixing poison.




A long, mysterious passage, with low woodwinds describes the night scene, when the guests depart. Suddenly, the pace accelerates. High winds and brass and a swooping string diminuendo suggest alarm. What is happening in the darkness ? In I morgen så drager vel Gudmund herfra, lit by mournful bassoons, Margit sings of a child born blind, whose sight is restored by witchcraft. But the magic can't last: the child falls blind again, but this time with the pain of knowing what he's lost. In contrast, Bengt's bluff, crude music underlines Margit's torment. Though they've been married three years. he still thinks he's done her a favour because she once was poor. He's only saved from drinking the poison when news arrives from outside. Knut's defeated, Gudmund's won favour with the King and will marry Signe. Bengt lives, but Margit can't go on. Her final aria "Skaemennede engel, fromme og milde" is powerful : better to renounce the world than endure a living death. Wonderful, shimmering string textures, Gudmund and Signe join in with wonder, and a choir in reverent, clean tones, sings about rays of light, emanating from Heaven. Although photos of early stagings show elaborate furnishings and sets. Margit's story is, fundamentally, one of renunciation. Hence the purity of Stenhammar's setting. Wagnerian or Verdian excess would not work quite so well. Margit, for all the intensity of her passions, is essentially a country girl whose instincts lie with purity.
This performance was conducted by Henrik Schaefer with the Symphony Orchestra of Norrköping and Choruses, recorded in August 2015 in connection with Swedish Radio. Matilda Paulsson sang Margit, Karolina Andersson sang Signe, Per Håkan Precht sang Gudmund, Fredrik Zetterström sang Bengt, Erik Lundh sang Erik and Mathias Zachariassen sang Knut. Definitely a recommendation! Please also see my piece on Hugo Wolf Das Fest auf Solhaug HERE, where Wolf;s incidental music is blended with a very good modern narration, very much in the spirit of 19th century German story telling drama.