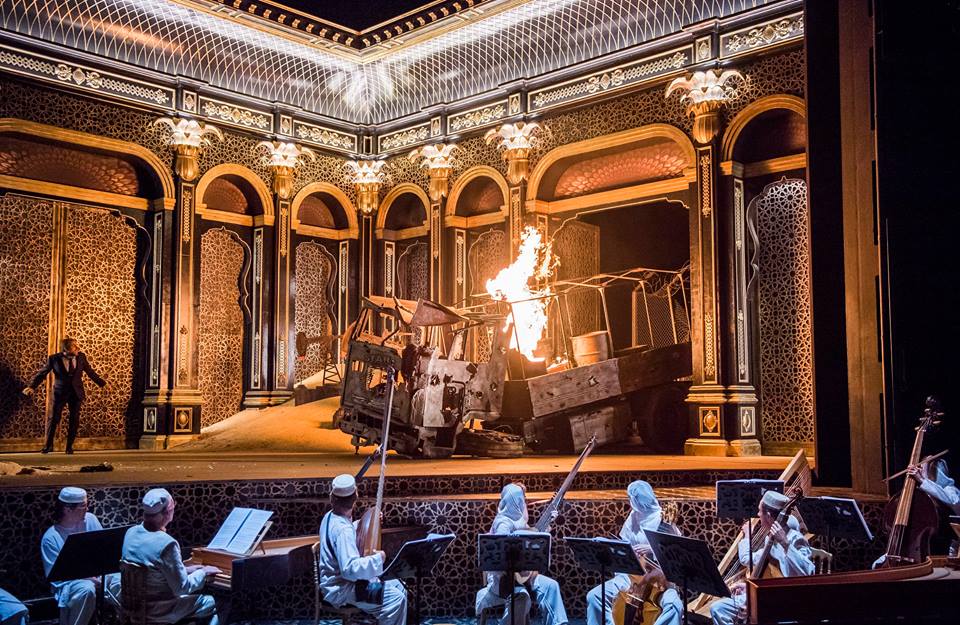 Glyndebourne and baroque opera are almost synonymous. Indeed, the modern revival of interest in the baroque owes much to Glyndebourne and its values of eclecticism and excellence. Francesco Cavalli's
Hipermestra
was an ideal start to the 2017 season. Cavalli operas, like
La Calisto
and
L'Oromindo
, are so well known that they're almost standard repertoire, but
Hipermestra
is so obscure that this production is only the second since the original premiere in 1668. With William Christie conducting (and acting) and Cavalli specialist Emőke Baráth singing the title role, this Glyndebourne first is unmissable. Get to it while you can. Graham Vick's staging, with sets by Stewart Nunn, is audacious, but then, that was the spirit of the baroque age, when Europe was discovering new worlds, in every sense. Cavalli's penchant for sex, cross-dressing and double entendre make
Hipermestra
an anarchic riot. Stay home if you're timid, but there's nothing timid about Cavalli.
The plot alone is so bizarre that only fools could mistake it for reality. A prophecy warns Danao, King of Argos, that he'll be killed by his son-in-law. His solution? To marry his 50 daughters to the 50 sons of his brother Egitto, and get the brides to kill their husbands on their wedding nights. What Freud might have made of that, who knows? Nonetheless the girls are so gullible that they widow themselves willingly, without question. Except for Hipermestra, who has the hots for Linceo, and he for her. Dad isn't pleased and puts her in prison.
Although the plot is implausible, music makes it art. The ensemble, nine members of the Orchestra of the Age of Enlightenment, were seated in front of the stage, which was decorated with an arch of pink balloons. The mass wedding at Argos is kitsch, but the music is not. Quietly, a figure in white joins the team: William Christie dressed anonymous, conducting from the keyboard, in full view. Throughout this production, musicians appear on stage, blending with the proceedings. Violinist alone, then with violist, then two theorbos of different kinds, and later, Christie himself arising from the stage machinery, interacting with the singers before scrambling down to the pit. Integrating music with drama in this way is sophisticated, conceptually, but Glyndebourne audiences are sharp enough to understand that opera is theatre, not reality TV! Musicians should be seen more often, for without them, opera would not be what it is.
Whatever Argos is, it's a place where extreme ideas are made possible by extreme power. Hence the oil rigs and ostentatious consumerist extravagance of the palace made possible by wealth, and the barbed wire that keeps people under control. The allusions to Arab and/or Central Asian oligarchs may be offensive to some, but are aimed at the rulers, not the people they rule. Thus is set the context for the wars that explode after Linceo escapes and takes his revenge on Danao, blaming Hipermestra. Eventually, the whole region is destroyed. So much for wealth and power, when it is exercised by stupid people. Linceo blames Hipermestra for infidelity, Arbante and his minions stir confusing sub-plots, Hipermestra wants to die and Linceo thinks she's dead. Everyone making assumptions without checking facts. That's the point of bthe plot and sub-plots: life is confusing if you don't stop and think, before jumping off (literaslly, in Hipermestra's case).
Hipermestra
is a whole lot more relevant than one might assume. The mayhem in the plot is a simile for what goes on in real life, even when people don't have 50 daughters and sons to marry off all at once. In the end, as in all good fairy tales, everything works out, but a whole lot of people have been hurt in the process. This is an observation that would not have been lost on Cavalli's original audience in times when monarchs had absolute power, without checks and balances.
Hipermestra
is comedy, but also satire.
Emőke Baráth, as Hipermestra, is divine. Most of the opera circulates around her, and she has the biggest role, and the longest monologue. As one of the other characters remarks Hipermestra "goes on and on", but Baráth is so good that you enjoy every moment, though Cavalli takes his time to make a point. Baráth is a good comic actress, singing a superb Helen of Troy in
Elena
(Il rapimento d'Helena) at Aix-en-Provence a few years ago. Raffaele Pe sang Linceo, switching from lover to killer, and back. Ana Quintans, a Glyndebourne favorite, sings Hipermestra's loyal maid Elisa. Benjamin Hulett sings Arbante - yes, sex and violence are very Cavalli ! Renato Dolcini sings Danao, Anthony Gregory sings Valfrino. David Webb sings Arsace and Alessandro Fisher sings Delmiro/Alindo. Special honours to Mark Wilde who sings Berenice, the camp but sinister drag queen. It's not a comic role, though it has to be played for laughs. Berenice has gone through many husbands, however she/he disposed of them. Part witch, part victim, the part serves to remind us that in extremist power structures, women and the powerless (ie gay men) get kicked around and misused. Cavalli had censors to fear. We don't, thankfully, as long as we have intelligent audiences like those at Glyndebourne, who appreciate that opera involves ideas, feelings, and creativity. .
and here's Claire Seymour in Opera Today : Danao is Libyan ! that explains the oil, and the despotism