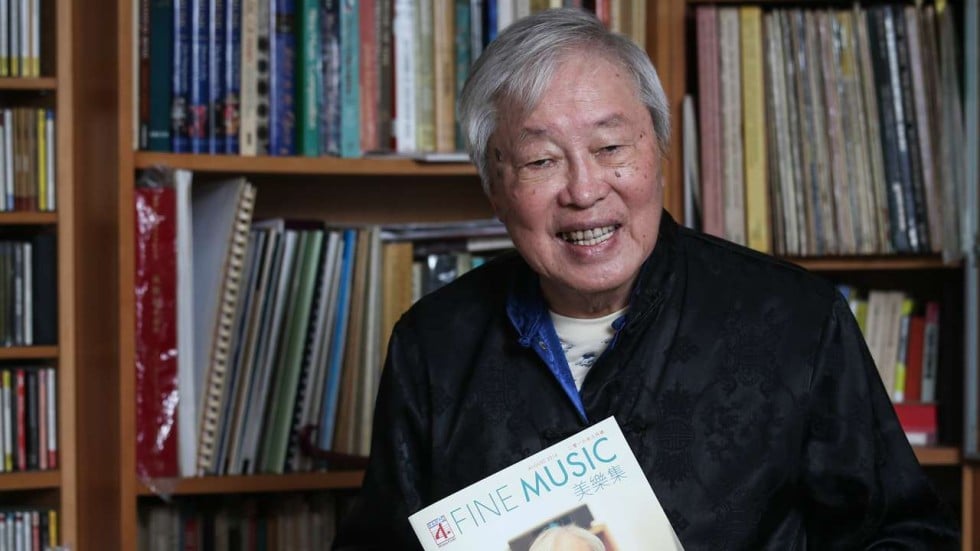 Doming Lam, from SCMP
Hong Kong music, and indeed most modern Chinese music, might be nowhere were it not for Doming Lam (
林
樂
培
), who features in the Hong Kong Music Series, the biggest celebration of Hong Kong classical music ever held in Britain. Hong Kong is a dynamic, thriving and vibrant city whose cultural life reflects the cosmopolitan creativity that makes the place flourish, despite all odds. In in the west, people only know movies, and don't realize just how much more there is in Hong Kong arts. The Hong Kong Music Series presents five productions, four concerts and one opera, at various central venues in London from 7th to 28th July. More details
HERE
Doming Lam was born in Macau in August 1926. He studied in Toronto and Los Angeles (with Miklós Rózsa). Returning to Hong Kong in 1964, he soon became a leading figure, composing, conducting and promoting music in a city where performance is highly regarded. With his engaging personality, he's a good communicator, almost a household name, which is more than can be said about many serious composers. Maintaining an international presence, he's a Member of the International Society for Contemporary Music (ISCM) . He also has a section in Grove. Photo at left shows Doming Lam in his youth when he compered a popular classical music radio show. The keynote concert in the Hong Kong Music Series will be held at St John's Smith Square on 7 July (book
HERE
) Titled "Music Interflow", the programme illustrates the dialogue between western and Chinese music. Doming Lam's
Three Night Songs of Li Bai
will be a highlight. It's a short piece for solo voice and piano, written in 1957, but marks a significant thread in Lam's development.
Li Bai, who lived in the Tang period, was a scholarly poet who lived in solitude, eschewing worldly power. Many of his poems dwell on Nature, specifically the moon. He often wrote about wine, but drunkenness provided cover for the expression of deep emotion. In traditional Chinese society, the scholar gentry were a distinct class.. Although many had careers in public service, they didn't necessarily have power or wealth, but had moral and intellectual authority. Chinese classical music reflects these cultural values: music for contemplation and private edification. Effectively, a chamber music ethos. In the 19th century, Chinese audiences embraced western orchestral music. Conservatories were set up in Beijing and Shanghai. Read more
HERE
about Xian Xing Hai and
HERE
about Ma Sicong, two important composers from the same southern delta region that Doming Lam comes from. Guangdong culture is very distinctive: even the dialect is based on nine tones, difficult for non-native born to master. The advent of large, western style orchestras stimulated the growth of large ensembles for Chinese music, generating a whole new genre. Doming Lam writes music for western and Chinese orchestras, as well as synthesizing both forms anew. He also writes large scale choral works. Read
HERE
for a list of his works, with links to scores and recordings.
Clarence Mak
The concert at St John's Smith Square on 7/7 includes works by Clarence Mak, Lui Man Shing, Tsui Wai-lam, Mailina Tsui and Chan Man Tat, music based on Chinese aesthetics, cognizant of western influence. The programme also includes works by Britten, Quilter, Bridge and Delius. See the connections? Chamber music and song - refined music for reflective individuals Conducted by Lo King Man, the performers play western and Chinese instruments. The singers are Colette Lam and mezzo Carol Lin, who will also be singing in the opera
Datong ; the Chinese Utopia
at the Richmond Theatre on 27th and 28th July.
Book HERE.
I'll write more later about the opera, and about the concert with Chinese opera in the Hong Kong Music Series. Both deserve more time and space ! Besides, it's not easy to come to Chinese music, even modern Chinese music, without understanding the background and unique values. Because the English-speaking world is west-oriented, it helps to understand alternative perspectives. There is so much to discover! To find out more, please follow the labels below to Chinese music, Chinese opera, Chinese movies, Chinese culture and history.