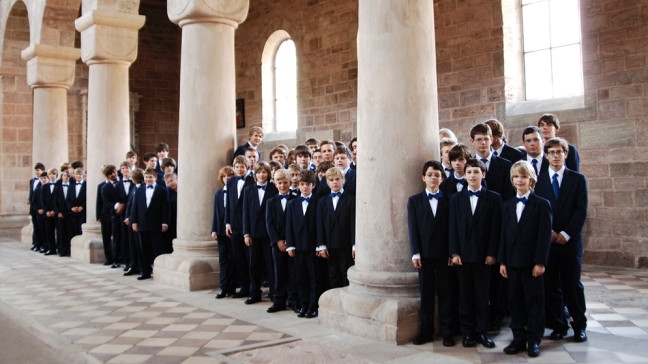 The Reformation was a watershed in European history. But not simply because it divided the Christian church, which has always had divisions. It coincided with social change, hastened by technology. Without printing, would literacy have spread so fast? Nowadays we have almost universal literacy, but not wisdom. Instead of knowledge, we get spin. People lie dead on streets all over the world, but we don't ask why. So we get stuff like
the BBC Reformation package
. People die when societies are divided : Nothing to celebrate. So what a relief to turn this afternoon to Munich, to an afternoon recital of music from the Reformation broadcast
live on BR Klassik.
The choir is the Windsbacher Knabenchor, a Bavarian choir founded in 1946 in the aftermath of another watershed in European history., conducted by Martin Lehmann. The concert is only an hour long but well worth watching as it takes place in the Liebfraudom (the Frauenkirche) . The present building was completed shortly before the Reformation. It's huge and impressive but was almost completely destroyed by bombing during the last war. Think on that.
Look, too, at the choristers, so fresh faced that their innocence seems unsullied by the world. Yet in these faces, you can also imagine choristers of centuries past, when being a chorister was prep for a vocation in the church, not in music. The programme begins with Martin Luther,
Ein feste Burg ist unser Gott,
written after he was excommunicated byn the Pope. It's a statement of faith, that God is a fortress stronger than schism, who will endure beyond the strife of human politics. Yet the Frauenkirche is a Catholic Church, seat of the Archbishop of Bavaria, an important diocese, which produced Pope Benedict XVI. Only 55 years ago, hearing Luther, or even Bach. in a Catholic Church was unlikely. Thank God for Pope Paul XXIII and the Second Vatican Council.
The programme featured composers connected to Nuremburg, such as Johann Staden (1581-1634), Caspar Othmayr (!515-1553), and Johann Erasmus Kindermann (!616-1655), and concluded with Pachelbel
Gott ist unser Zuversicht und Stärcke.
The choir was supplemented by soloists Isobel Jantschek, Yosemeh Adjei, Tobias Mäthger and Felix Schwandtke, a bass from Freiburg, who might be one to watch : he's very good.