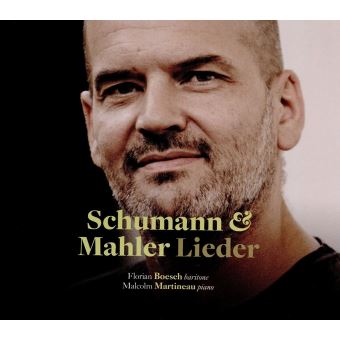 Schumann and Mahler Lieder
with Florian Boesch and Malcolm Martineau, now out from Linn Records, following their recent Schubert
Winterreise
on Hyperion.
From Boesch and Martineau, excellence is the norm. But their Mahler
Lieder eines fahrenden Gesellen
takes excellence to even greater levels. Although I've heard dozens of performances over the last 40 years, this took my breath away. I've been playing the songs over and over, getting so much from it. Boesch's voice is a thing of wonder - such richness, such beauty, - yet fluidly natural, free of mannerisms and self consciousness. When you listen to Boesch, you're not listening to "a performance" so much as being drawn into the music itself, experiencing it in a profoundly personal way.
Mahler's
Lieder eines fahrenden Gesellen
were particularly personal works for Mahler himself. He wrote the texts himself and set them with a very short period: hence their spontaniety. This is very much a young man's adventure. so youthful vigour is central to interpretation. Martineau plays the first bars of "Wenn mein Schatz Hochzeit macht" which repeat, like tentative but brisk footsteps into the unknown. Note how steady Boesch's voice is as he joins in, for the protagonist is to undergo a wide range of conflicting emotions as he proceeds on his journey. When Boesch sings "
Fröhliche Hochzeit
" , for example, the "ö" trembles, as if to emphasize sarcasm. The protagonist has been alone, weeping in his "
dunkles "Kämmerlein"
. When Boesch repeats the word a second time, he shades it to evoke the darkness and all that it implies. This intensifies the contrast in the second part of the song with its joyful outburst. Boesch's voice glows as he sings the lyrical
"Blümlein blau! Verdorre nicht!

Vöglein süß!
". We can almost imagine the protagonist's lungs swelling, taking in the clean air. Like the bird, the protagonist will make his mark on the world by singing. Not whining, to make a bad pun. Martineau's playing is lyrical, too, suggesting the bird, singing alongside the singer. "
Zikuth, zikuth
" sings Boesch with utter simplicity, for the bird represents nature and innocence. For a moment, though,
"Singet nicht! Blühet nicht!
" and the poet retreats into himself, voice and piano gently muting. But not for long. The pace quickens, the piano line suggesting an energetic hike. Lilting passages move and flutter. We're on the open meadows."
Ei du! Gelt? Guten Morgen! Ei gelt?
" Note the rhythms. Boesch and Martineau keep the tone light. The bird is cheeky but it's also chirpy. Sparkling piano figures lead into a new, more serene mood, where lines stretch smoothly, held for several measures, as if basking in
Sonnenschein
. Yet again, the protagonist retreats, the piano line decelerating breaking into single notes "
Nein ! Nein !
" sings Boesch, with quiet resignation. "
Ich hab' ein glühend Messer
" heralds a sudden mood change. Mahler's contrasts suggest stage drama, perhaps a hint that the protagonist thinks he needs to talk big to make a point. Significantly, the bluff doesn't last : the protagonist moves on. But to what? He lies under a linden tree, whose perfume was reputedly narcotic. The music becomes lullaby, gentle rocking patterns in voice and piano. For a baritone who has great heft when he needs it, Boesch can do soft and tender extraordinarily well.
Will the protagonist wake refreshed or will he die ? In
Das klagende Lied,
Mahler's hero rests under a tree, and gets a message from his dead brother. But in Schubert's
Winterreise
the hero realizes that there are no easy answers. He must keep searching. So whither the wayfaring lad? "
Alles, alles, Lieb und Leid, und Welt, und Traum
". The connections between
Lieder eines fahrenden Gesellen
and Mahler's
Symphony no 1
are obvious. But the piece is a breakthrough because Mahler is embarking on a journey in music and metaphysics that might never end. In 1885, in
Lieder eines fahrenden Gesellen,
we already glimpse
Das Lied von der Erde
and even the
Tenth Symphony
looming into view. Boesch and Martineau are Lieder specialists,deeply immersed in the aesthetic that inspired Romantiuc poetry, painting and music, and have created whole programmes on the theme of Romantic Wanderer. Please see my review of their
recent Wigmore Hall concert here.
Boesch has also recorded a Wanderer disc with Roger Vignoles. Like the wanderers of the early Romantic period, Mahler, "Dreimal heimatlos", channels that questing spirit though his music is very different to Schubert's.
Surprisngly, Boesch and Martineau have done relatively little Mahler, but they are Lieder specialists, and this, I think, gives them an edge over some singers whose background might be more geared towards opera and less intensely intimate genres. Fundamentally Lieder is an inward genre where sensitivity and emotional intelligence are paramount. With their extensive experience in Schubert and Schumann, Boesch and Martineau can bring that Lieder sensibility to bear in Mahler, and , perhaps even more significantly, an understanding of the early Romantic roots behind Lieder and behind the folk traditions collected by Brentano and von Arnim for their volume
Des Knaben Wunderhorn.
Thus this
Lieder eines farhrenden Gesellen
is one which even seasoned Mahler listeners should take the time to listen and absorb. Mahler's symphonies, even past the Fourth, connect to the Wunderhorn background.
Also on this recording, an excellent Schumann
Liederkreis
op 39, which Boesch and Martineau have done together many times This version's excellent. Regular Boesch and Martineau fans will be delighted, because Linn recordings are audiophile quality. Listeners coming in for the Mahler are in for a serious treat ! Schumann, too, drew on the spirit of the Romantic wanderer, so hearing Schumann and Mahler together enhances our appreciation of how two very different composers approached the same concepts. In
Liederkreis
op 24, Schumann set Heinrich Heine, more worldly and cynical than Joseph Freiherr von Eichendorff whose poems inspired
Liederkreis
op 39. A wise choice oin the part of Boesch and Martineau, since Eichendorfff's poems are closer to the naturalism and folk wisdom of Wunderhorn. There are wanderer sings, like
In der Fremde
("Aus der Heimat hinter den Blitzen rot") and
In der Fremde
("Ich hör' die Bächlein rauschen") with its haunting refrain "Ich weiss nicht, wo ich bin". But there are also songs like
Waldesgresr
äch
which connects to the supernatural enchantment of Das klagende Lied, and songs like Fr
ühlingsnacht
where in darkness the poet recalls lost love, but is cheered by nightingale song and the fresh blooms of Spring. The themes of Lieder eines fahrenden Gesellen !
This recording isn't long (47 minutes) but it's packed with good things and worth every cent. Three songs from Schumann's
Lieder und Gesänge aus Wilhelm Meister
op 98a, for example, which Boesch and Martineau have done live several times in recent years.
Wie nie sein Brot mit Tränen aß,
Wer sich der Einsamkeit ergibt
, and
An die Türen will ich schleichen.
Schumann's settings aren't as omnipresent as those by Schubert and Hugo Wolf, but they are every bit their equal, contemplative and - dare I use a naughty word these days - "intellectual". Wilhelm Meister is a tortured soul, and an exile who will never find peace, but he sings on, nevertheless, though he's forever doomed to wander. Nothing pastoral, but also very much in the Romantic spirit of psychological discovery.