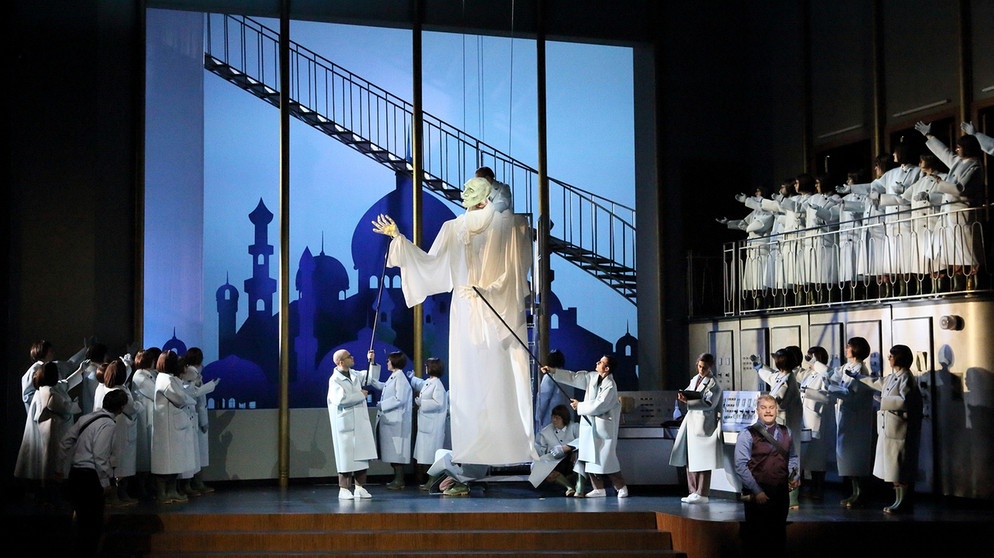 Carl Maria von Weber
Oberon the King of the Elves
at the Bayerisches Staatsoper, Munich. With its bizarre mix of Shakespeare, the supernatural, medievalism and exotic settings, Oberon is almost impossible to stage. The secret, perhaps, is to recognize that realism in opera is really only very recent. Modern audiences don't realize that "tradition" in opera is not tradition at all. Literalism didn't exist before TV and movies. Real "tradition" meant painted flats, improbable devices and stylized non-realism. Oberon is a work of the imagination, so it needs a staging that stimulates the mind.
Shakespeare depicted Oberon as arch-manipulator, a being who controls everyone around him by playing manipulative games. Nothing sweet and cuddly about this fairy! He is a creature of the night, and of the subconscious, not a Disney cartoon. This Munich production (Nikolaus Habjan, director) uses puppet figures, behind which some of the singers sing. Fanciful, yes, but a nod to the real traditions of theatre.
Oberon
is as much Singspiele as opera, and connects to other forms of music theatre popular in the early 19th century, where puppets were often employed. The puppets here are so ingenious that they might at first seem confusing, but after a few minutes, you enter into the vibe. Even more inventive is that Oberon himself is depicted as a giant puppet, dwarfing the singer, Julian Prégardien. Like the
Wizard of Oz
, another masterpiece of fantasy, Oberon is all front: the person behind the mask is an ordinary-looking nobody (who happens to sing rather well). Who's manipulating whom? Oberon and his Queen, Titania (Alyona Abramowa), are depicted much in the way that scientists in science fiction movies are seen, studying sub-species, detached from ethics or morality. How true! As long as someone wears thick glasses and a lab coat, they "must" be right, huh? Though odd at first, the concept is utterly valid.
Like mad scientists, Oberon and Titania don't do human emotion, so they play around with mortals who do. In a bizarre conflation of fantasy and history, the plot switches to the Court of Charlemagne, where the Knight Sir Huon (Brendan Gunnell) is sent on a mission to the Sultan of Baghdad. Two great empires, the Franks and the "Turks", as alien to each other as Elves and mortals, but such contac6s did happen, though Huon of Bordeaux existed only in fiction. The Sultan's daughter, Rezia (Annette Dasch), lives in fantasy too, dreaming of an ideal lover she's never met. Huon fits the bill, and the pair fall instantly in love. A delusion, if ever there was one. They have to escape or be killed.
Again, perceptive casting. Dasch is statuesque, a diva as extravagant as is her music, which swoops between the top of the scale and the lower depths. Formidable in every way, yet also over the top and histrionic. Weber's audiences would have "got" what he meant from listening to Rezia's lines. Huon's part is gloriously written with even more extravagance than Rezia's, with some beautiful, extended arias. Since I adore Jonas Kaufmann in this part (from a 1998 recording with John Eliot Gardiner), I was at first surprised by Gunnell, til I realized that this portrayal was equally valid. Kaufmann was so divine he didn't seem human. Gunnell's down to earth, a sturdy "Frank" acting out a ludicrous fantasy, complete with stagey moustache that looks like it might fall off. Like Oberon, and everyone else, he's effectively a puppet. He's an ordinary bloke in an extraordinary situation.
Huon and Rezia flee across the sea. In Weber's time (and for a long time after) you couldn't actually show the sea on stage. Hence the giant Hokusai wave painted on a stage flat. Hokusai? But who says it's actually the Mediterranean, though the action shifts to Tunis? Rezia is captured by pirates and Huon is killed. To highlight the histrionics, Weber writes a sub-plot in which Rezia's maid, Fatime (Rachael Wilson) falls in love with Scherasmin, Huon's sidekick (Johannes Kammler). She's tiny and he's very, very tall, which adds to the comic mayhem. Another off the wall subplot. Roshana, the wife of the Emir of Tunis, wants Huon, raised from the dead by Puck's magic, to kill her husband Almanzor. (Both are speaking parts.) Huon creeps in to see Rezia, who thiniks he's dead. Now they're both wearing masks, which they didn't before; perhaps because now the fantasy is too extreme to be real. Almanzor breaks in, and Rezia and Huon are tied up, ready for execution. How shall they escape? Simple! Scherasmin blows a magic hunting horn (a Wunderhorn) and Oberon appears. The Elves (in lab coats) dance, and the lovers escape.
Anyone expecting realism in a plot like this is even more nuts than the libretto. But that's exactly why Weber's
Oberon
is so much fun. It's sheer theatre, impossibly over the top, hilariously funny and great music, too. Much more to it than the Overture. Thus the rambunctious conducting of Ivor Bolton worked well: not as magical or as exhilarating as J E Gardiner, not as fulsome as Keilberth, but very much in keeping with the sturdy humour in the staging.