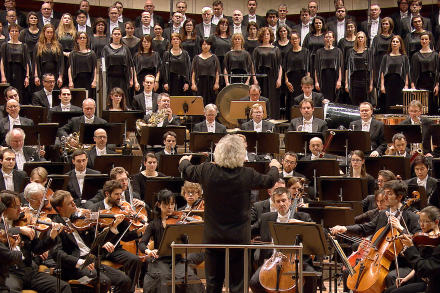 Simon Rattle has been conducting Mahler's Second Symphony since he was a teenager. He's conducted it with the Berliner Philharmoniker many times, also with the same opener, Helmut Lachenmann's
Tableau for Orchestra
, and also with the same soloists (photo above was taken at the Philharmonie in Berlin). Yet Rattle and the Berliners are so good that they can make even the familiar sound fresh and spontaneous. Nothing routine about this performance! (
Available here
in audio for 28 days.) If it's possible to imagine Mahler 2 performed en fête, this was it. The players were relaxed, yet energized, clearly enjoying their second London residence in a few years, eager to share their love for the symphony with a new audience. And "celebration" is absolutely a valid interpretation of Mahler. The symphony isn't titled "The Resurrection" for nothing.
The Allegro Maestoso is marked "mit durchaus_ernstem_und_feierlichem_Ausdruck" for it was inspired by the funeral of Hans von
Bülow, Mahler's mentor. But it begins with a great burst of energy: gravity doesn't preclude fervour. Many years ago, I heard Bernard Haitink conduct this movement with tempi so slow that his players struggled to maintain a line. It felt as if the body were gradually switching off and shutting down. It was terrifying. I could hardly draw breath. Rattle's tempi weren't so extreme, but he observed the sense of deliberation. This is a march, but with a purposeful destination. For many of us who love Mahler, the excitement in his music comes, not from rabble-rousing rush, but from this sense of intelligence. Hence the importance of observing detail, marking each stage of the descent: the pastoral passages suggesting memory, the quiet pizzicato "footsteps" that scurry forwards, the horn calls that introduced the sudden, spiralling denoument.
Thus were we prepared for the warm breezes of the second movement, (particularly lustrous harp playing). and the third, marked "In ruhig fließender Bewegung" with its references to the world of
Des Knaben Wunderhorn
. The departed may be dead, physically, but Nature is working its miracles. The "Fischpredigt" passage began with a bang, the quirky woodwind melody leaping energetically, the strings surging with energized power. From this emerged the
Urlicht
. Magdalena Kožená is better in this part than she gets credit for, because the honesty in her singing was truly "aber schlicht", pure, like the elusive violin part around the voice, so, when the music explodes in the last movement, we appreciate the contrast. Splendid, full-sounding strings, then the magic of the offstage trumpet, suggesting heaven: a true piece of theatre on Mahler's part, but filled with metaphysical meaning. Tiny, delicate pizzicato lead to soaring passages which suggest panoramic vistas, the "mountains" of Mahler's
Third Symphony
which Rattle and the Berliners do so well (
read more here)
. Then the cataclysmic "earthquake " which suggests Messiaen
Et exspecto resurrection mortuorum
, another Rattle/Berlin Phil favourite (read more here). Wilder and wilder, as if purgatory itself were being ripped apart. Exquisite winds and strings - what else would one expect from the Berliners The LSO and CBSO choruses intoned softly, like penitents in procession,
over which rose Kožená and Kate Royal's voices.
As Mahler wrote of the finale "what happens now is far from expected: no divine judgement, no blessed and no damned, no Good and no Evil, and no judge". And "there is no judgement, no just men, no punishment and no reward….. just a feeling of love which illuminates and fills us with blissful knowledge of all existence". So what if this wasn't the most divine, most ideal performance? It was a great experience.
The BBC is marking Simon Rattle's 60th birthday in a big way. Most of the concerts in this London residency are being broadcast, audio on BBC Radio 3 (
here
) and some on BBC TV I-player (
here
) . Although I've written about the Mahler concert, the Sibelius concert are even better. Be cautious with the documentary about Rattle and his career (
here
), which comes over like an advertisement, surprisingly amateur for an occasion as high profle as this. Talking heads filmed in pseudo vox pop style, not once but twice! Technical naffness aside, the subject himself is fascinating, so fast forward past the first 25 minutes.